Preview of the NEWYES WeatherPad before Launching
With an experienced and dedicated R&D team, we hit on a great success of the crowfunding campaign on Kickstarter and Indiegogo of our SyncPen2 during the past three months.
Following the success of the NEWYES SyncPen 2, we are going to launch the WeatherPad as a continuation of our environmentally friendly product range, which keeps in a drive to make the world paperless. If you are a big fan of our paperless products or if you would like to give it a try, stay tuned on our website and subscribe to our newsletters to get the latest news!
What is the WeatherPad?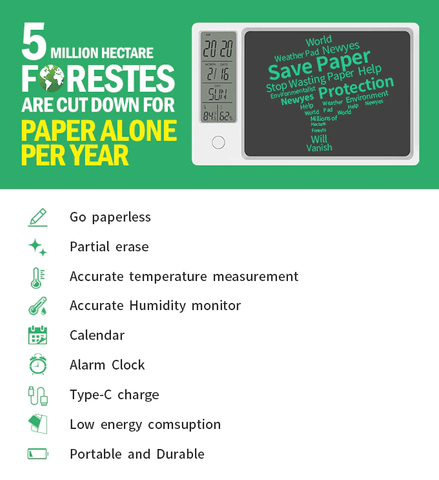 It is a combination of an LCD writing pad with a built-in thermometer and a hygrometer. It is capable of monitoring and measuring indoor temperature and humidity within a deviation of ±0.1℃ and ±1% RH. Refreshes occur every 10 seconds keeping you aware of any changes to the environment.
The inclusion of  LCD writing pad allows quick and easy recording of any metrics.It allows different people to make different notes, based on their special demands. For example, you can set up reminder for your family members or workmates; jot down notes or tips in office; kids can also draw or scribe freely on this pad. All the users will benefit from an eco-friendly way to log information and erase it without unnecessary paper use. 
Who Needs the NEWYES WeatherPad?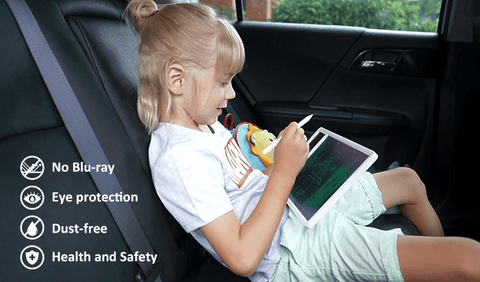 The WeatherPad has use cases in both personal and professional environments.
For environments with strict humidity and temperature requirements, the  WeatherPad is the perfect accompaniment. The thermometer and hygrometer are highly accurate for measuring temperature and humidity while having a 10-second refresh rate. Users can quickly make adjustments and note changes with the LCD writing pad.
For example, in your living room, bedroom, babyroom, office, you might need such a WeatherPad to keep aware of the indoor condition and make some adjustment to keep comfortable.
While in some professional environements such as laboratories, wine cellars, greenhouses, warehouses, or pet breeding rooms, to name a few, the WeatherPad will be an essential tool for any place that requires temperature and humidity moderation.
4 Excellent Ways That the WeatherPad Can Benefit Your Personal Life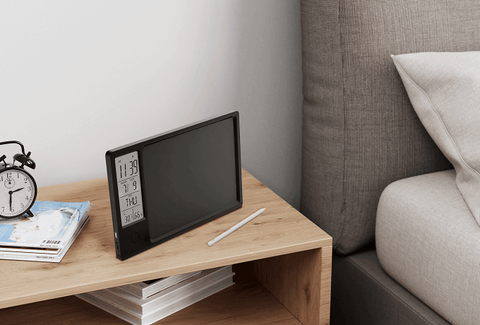 Humidity settings
Dry or damp air can be an issue in residential properties. The highly accurate readings of the WeatherPad will help you to know the dry, comfortable, and wet conditions of your rooms quickly. Using the data, you can adjust the humidifier or dehumidifier accordingly to meet the needs of your family.
For example, a dehumidifier is most effective at warmer temperatures and higher relative humidity levels. Relative humidity levels over 60% can cause mold and mildew to grow. The ideal humidity is between 30% and 50%. Using the WeatherPad, you can be proactive and mitigate the harmful effects of mold in the home.
New Homes
When moving into a new home, the WeatherPad can help you understand the temperature and humidity in each of the rooms. Knowing the information can help you take appropriate actions proactively.
People with illnesses
For those who suffer from colds and headaches, or permanent problems such as arthritis and tracheitis, the temperature and humidity can impact common symptoms. The WeatherPad can be beneficial in keeping the heat and moisture at the right level all of the time, negating the effect of the environment.
LCD Writing Pad
The LCD tablet offers a memo function that the whole family can use. As well as monitoring temperature and humidity metrics, users can leave messages for each other and essential notes. The LCD pad ensures no wasting of paper, writing on walls, or risk of the kids writing on the sofa!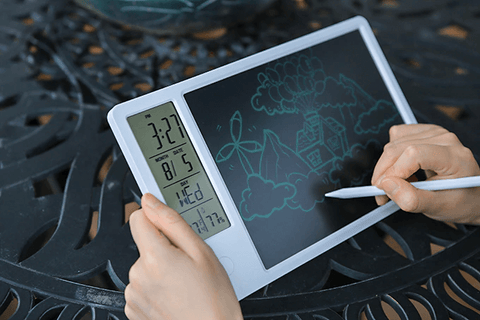 Additional Features
As well as all these benefits, the WeatherPad comes with additional features. First, you can set alarm clock reminders. In professional environments, there could be set times when temperature and humidity need logging. The WeatherPad will sound an alarm to remind users to check the data.
Long lifespan: It uses a Type-C charger, which takes just 90 minutes to charge every 3 to 6 months.
3 angles kickstand: The kickstand can be put in three different positions for easy placement.
Magnetic attached stylus: The stylus comes with magnetic technology, which can be magnetically attraced aside the WeatherPad easily. It is strong and durable so that the kids cannot break or damage it.
Safe material: All the materials used in the production of the WeatherPad are environmentally friendly.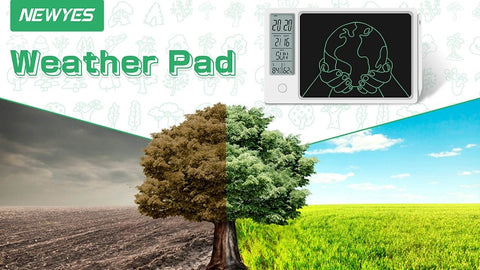 The WeatherPad will surely take a step forward towards our mission of "Making the world paperless". Back this project on kickstarter and you will contribute a lot to protect our environment.
So are you interested in this multifunctional WeatherPad?
Follow our launching news now! The campaign will be live at 7AM PDT, Sep.7th!